Today is Thursday 27 January 2022
Ecovillage Wiki: This Week | Month | Year
Things you can do
[
]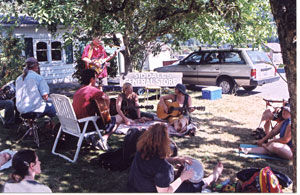 You can browse, ask a question, edit an existing page or start a new page.
Getting started
[
]
If you want to contribute, please Log in / create account so that your numeric IP address doesn't show up in the histories of articles and you can recieve attribution for your work. Let us get to know you!
Create a page for the ecovillage you live in or know about. Sometimes we create articles about alternative energy, organic gardening or just ecology in general. Browse the Categories for something that interests you. You can edit any article here.
Check out the Community Portal to learn more. You can join the discussion there if you like.
Nothing here that suits you? Check out The Central Wikia for other communities of interest. You might also wish to participate at Wikipedia or Wikiversity projects that interface to the Ecovillage Wiki.
Joining In
[
]
Practice in the sandbox to get the hang of editing.
Sign up as a user. This is highly recommended as you will then have addtional privileges. Just click on create an account or log in in the upper right corner of the page; give your user name and password. That's all there is to it! You can get more information on creating an account here.
Once you are signed up as a user, you will have a "watchlist" and a "contributions" page. The watchlist allows you to see changes that others have made to documents that are of interest to you. "Contributions" is a log of all your edits.
Ask a question here
Sign up for the mailing list Ecovillage-l for discusions about all aspects of ecovillages. This is also the best way to get your questions answered. Just click on the Mailing Lists link in the navigation box to the right of the page.
If you're a user you can mark the pages you want to keep track of. When you log in and click on watchlist you will be able to see any changes made in your absence.
Categorize existing pages. See Special:Categories and Category:Categories to get a sense of how it goes.
Ecovillagers
[
]
See the list of ecovillages to see if your community is listed. You can start a new ecovillage page here, or join the Ecovillage WikiProject to find out how.
Ecovillage WikiProject
[
]
A WikiProject is a team of people that manage wiki sites like the Ecovillage Wiki and Wikipedia. The Ecovillage WikiProject (a.k.a WikiProject Ecovillage) runs the Ecovillage Newsroom here.
This Week
[
]
Today:

Thursday 27 January 2022
See Current events for more about what's going on and the Community Portal to get Involved.
Participate
[
]
To join the project, add a news item, ask a question. make a suggestion or just say "Hi", report to the News Desk.
Who's Who?
[
]
Places you can go
[
]