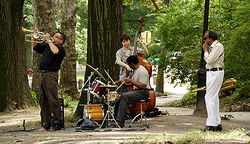 Communitas! is a word meaning the "spirit of community". The word is used as both the title of a Community Development Journal under development at the new Wikiversity and as a "meme" for a community building program and applied community studies across the Internet.
Ubiquity
Edit
Communitas! is an effort to build up the context of community and freely-available content that is valuable to community builders and practitioners everywhere. The program started at Wikipedia in September of 2004 and has been growing ever since.
It is a ubiquitous effort to build viable references about Community in general, Community Studies, Community development practice, Community organizing and all things Community:
Ecovillage Context
Edit
All who know about the ecovillage way are familiar with the principle of communitas. It takes a special breed of folks to organize, build and live in ecologically-sustainable communities. The Sense of community must be strong and resilient. The means for Consensus decision-making and Conflict resolution must be in place. The dynamics of social roles and responsibilities must be well-understood. Structures must exist that facilitate a high degree of adhesion and cohesion.
For these reasons, Communitas!, as both a community-building program and an academic journal seeks input and participation from social networks such as the Global Ecovillage Network, the Gaia Foundation and the Ecovillage Wiki.
Please enter comments, questions, concerns, critisisms or whatever is relevant on Talk:Communitas!
Community content is available under
CC-BY-SA
unless otherwise noted.