Update note:
Revision v2-2 forthcoming in 2014, to include
1) Neighborhood Organization Presentation (2008)
2) Business Communicaitons Model (2009-2010)
3) Global Environmental Policy Project (2011)
4) Innovation Processes Project (2012)
5) Green For All Venture Pitch (2013)

Revision v1-2:
From: Economic Dimension Working Group, Ecovillage Design Education/ Ecovillage Design Education Southwest
Click to see a pdf version of the ROUGH February 2008 Sustainable Community Design / Media Synergy powerpoint presentation: [1]
Sustainable Community Design / Media Synergy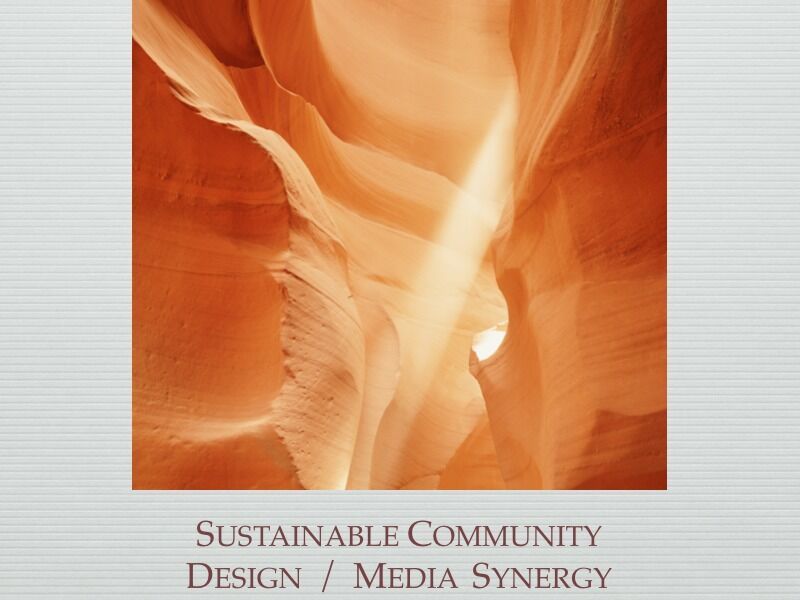 We Are Designers Who:
Foster
co-creative systems which support the rapid transition of whole communities to sustainability;
Collaborate
in the development of innovative, efficient, bio-mimicry based local/global community centers and networks which embody and seed the practices of ecological societies;

Synergize design and media collaboratives which channel community and global knowledge, wisdom, and resources for learning and action;
Act
through communications training, facilitation, documentation, production, distribution, infrastructure, services and liaisons with networks and partners around the world.
____________________________________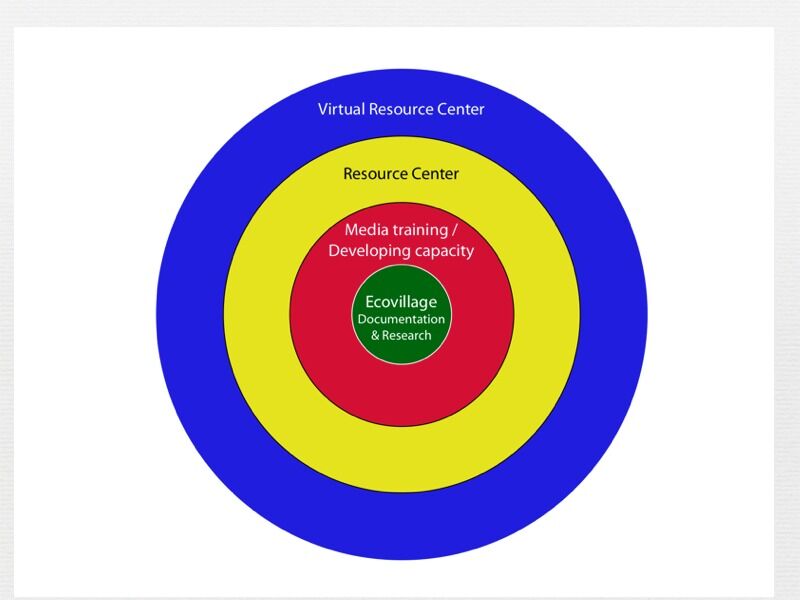 Design Team Anticipated Results:
Initial framework & measures:
Local/global sustainable community media system conceptual development.
Short term deliverables in the form of production and analysis of content from the 2007-2008 Albuquerque EDE seminars.
Phased development of products and services to provide scalable, full-spectrum media collaboratives, with associated networks and services.
Organizational Development:
Our plan is to create several holding companies dedicated to providing long term stability to a network of subsidiaries, as well as necessary strategic partnerships, collaboratives and consortia, and accountable to a diverse base of sustainable community stake-holders.
Principal subsidiaries are devoted to:
Training and Consultation
Production and Distribution
Infrastructure Development

Sustainable Design Tools Online
[
edit
|
edit source
]
Sustainable Media Tools Online
[
edit
|
edit source
]
Integrated Sustainable Design/Media Tools Online and in Community
[
edit
|
edit source
]
Cognate and Partner Resources
[
edit
|
edit source
]
Open discussion list for communities and practitioners exploring the Gaia Ecovillage Curriculum and the applicability of the Sustainable Community Design / Media approach:
[[2]] Open Living and Learning for Sustainability
[[3]] Video introduction to Ecovillage Design / Media Training (pending)
This is a growing list of resources, models and partners. Please feel free to add and elaborate as we move forward.
[[4]] Ecovillage Wiki
[[5]] Research for Development
[[6]] Now Public
[[7]] Practical Action
[8]] Miro TV
[[9]] Approprepedia
[[10]] World Changing
[[11]] Maker Wiki
[[12]] Group Jazz
[[13]] Appropriate Technology Sourcebook
[[14]] Architects Without Borders
[[15]] Open Architecture Project
[[16]] Adena Center
[[17]] Nabuur
[[18]] National Collegiate Innovators and Inventors Conference
[[19]] Global Ecovillage Network
[[20]] Open Sustainability Network
[[21]] Independent Media Center
[[22]] Intentional Communities portal
[[23]] International Institute for Sustainable Development
[[24]] Free Press
[[25]] Synergein - The classic proposal for a million solar villages
All items (1)
Community content is available under
CC-BY-SA
unless otherwise noted.